Hank's
BLOG TOUR
-- Guest Blogs and Interviews about
MAKE SOMEONE HAPPY
LINK: Sample -- Read More -- Buy
Click on the LINKS below to read more
MM Good Reads Guest Post
"Choosing a Setting That Surprises"
Love Bytes Guest Post
"Here's to Our Public Libraries"
Scattered Thoughts and Rogue Words INTERVIEW
Prism Book Alliance INTERVIEW
My Fiction Nook Guest Post
"Ways Music Inspires Us"
Tammy's Two Cents (TTC Books and More) Guest Post
"Writers and Characters at Work"
Check Out this wonderful "Retro" Review of EMERALD IDOL, By Hank Fielder:
LINK to Review Website HERE
Posted by Becky Condit on August 3, 2013
"You erased me from your life. But maybe you understand now that it's not possible to make other people invisible, or just disappear."
GENRE: M/M
RATING: 4 1/2 Sweet Peas!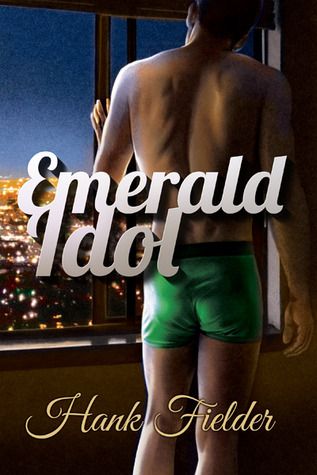 BLURB:
Once upon a time in the eighties, Nick Davanger's soulful green eyes and successful record-producer partner turned him into the pop sensation known as the Emerald Idol. But Rusty has been dead for a year now, and though Nick is slowly putting his life back together, it isn't easy—especially since someone is trying to derail his comeback by blackmailing him about his decadent past.
Enter LA detective Anson Bay, who's been assigned to keep Nick safe. Anson is the total package, handsome as well as competent. He strives to keep business and pleasure separate, no matter how strong his feelings grow, but his attraction to Nick strains the limits of his professionalism.
To aid the search for a suspect, Nick finds himself reliving his time with Rusty, from London's steamy all-male strip clubs to fame in the Hollywood Hills. Even if he can't deny that Anson excites him, Nick's not sure he can love again. Of course, if the villain who's blackmailing him succeeds, Nick may never have the chance to find out.
PATTYCAKE'S OPINION
: In Emerald Idol, Hank Fielder has written a gripping and gritty tale about Nick Davanger and his tumultuous life, from his rough childhood being raised by racist grandparents who treat him with contempt because he's biracial, through his whirlwind time as a "one-hit wonder" pop star during the wild and crazy eighties in London's infamous gay nightclubs, to his career as a successful writer. The blurb does a great job of covering the basics of the book, but you need to read it yourself to appreciate the true depth of the story.
This is a character driven story that is told through a combination of flashbacks and present day. The plot flows smoothly from beginning to end, with characters who are so solid and vital that they could be your neighbors, or someone who you would meet on the street. The backstory is fascinating and lays a solid foundation for the storyline with enough information to keep you from getting confused. The sex is wild, hot, and steamy without being over the top.
The author's writing style is eloquently solid, original, and crisp. I absolutely love how vivid and richly detailed the myriad facets of this tale are. The author offers an up close and personal glimpse into what life was like as a gay man living in London during the tumultuous eighties, and the glamorous yet dark world of the infamous gay nightclubs. The book does have a HEA ending after a pulse pounding confrontation that changes several people's lives forever. I thoroughly enjoyed reading this story and would definitely recommend it to anyone looking for a fantastic way to pass a few hours.